Post by MayorOmega on Sept 5, 2019 7:34:29 GMT -8
Encyclopedia Galactica
Text Data Extraction Search: Compendium of Military Units
Unit Overview: THE MARAUDERS
SEARCH COMPLETE: APRIL 17, 2466

History:
Considered by many in the galaxy at large to be nothing more than a rumor, the organization known only as the "Marauders" is rumored to be a rogue self-contained military unit (and in some rare and unique cases, they have been referred to as a "cult") under the command of a singular figure referred to as the "Lich King" who oversees all operations.
These rumors tell of a fleet of warships of various classes and types ranging from Terran Federation/Dominion classes to Klingon D7s, Romulan Khopesh dreadnought warbirds, and Jem'Hadar Heavy Raiders mixed in with a number of unique warships uncommon to anything seen or deployed by any of the factions in the galaxy at large and this is a force capable of doing things that exist outside of the standard rules of warfare.
However all rumors are based somewhat in open truths or hidden facts, even for the "Marauders".
During President Carain's conversion of the former Terran Dominion government into it's present form, a damaged data-crystal was found that contained shreds of information for a Dominion special operations unit that was code named "Omega Sanction" and among some of the scant details recovered from the crystal included the phrases "recover prototypes" and "on your own", but the text connecting these phrases was too corrupted beyond repair.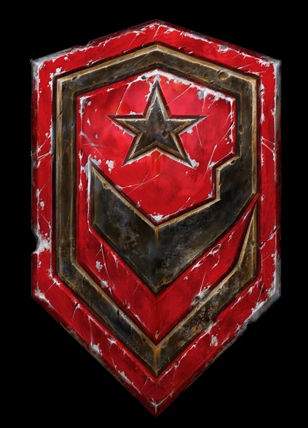 <Following data available only with Security Clearance 7G-Black or higher>
Further digging by select specialists by President Carain discovered that this "Omega Sanction" wasn't just a task force or a battle group, but an entire branch of the Dominion special operations or at the very least they had access to a branch designed specifically to help with them, but no confirmed list of assets or deployable elements were discovered.
The Sanction's purpose was discovered however-they were a highly specialized covert strike force, answerable only to one person within the Dominion high command...but not the leader of the Dominion however... and they were given any operation that was deemed "highly critical" by their high command but other than several unconfirmed reports, they never saw actual use against any force lead by the now president.
However another file captured by Carain's forces revealed that the leader of the Omega Sanction was considered to be "worshiped" by those under his command for the great care that he took in leading the missions for his force... and having an extremely high success rating for mission operations.
Organization:

The exact organization for the Marauders is currently unknown but if rumors are to believed, then they have access to a fleet of at least hundred and fifty warships of various classes including several of an unknown make and classification.
Two distinctly different para-military forces have been distinctly rumored to be linked to the Marauders in the forms of the "Uruk-hai", a special forces marine battalion known for wearing entirely black armor of an unknown make with a black hand print on it, usually on the chest, right pauldron, or across the helmet that are known for dealing with high profile assaults and raids with no commander on record.
And the other group is the "Burning Legion", a specialized guild of fighters known throughout the underworld as a group as being high level operators to get messy jobs accomplished.
Again, these are rumors and there is no hard facts to compare them to as of yet.
Composition:

<UNKNOWN>
Equipment:


<UNKNOWN>
Notable personnel:

<UNKNOWN>
Outlook:
While not much is known about this organization, or even if it truly exists, what is known however is that the Marauders must exist in some form or fashion for these rumors to persist-the symbol that is more commonly connected to them-a stylized scorpion's tail in black-is possibly not even actually connected to them.
The author of this page hopes to update it with more information once more is available.
End of Text Data Extract

thank you for using the

Encyclopedia Galactica